Copyright © 2010 The Tarzi Family & The Tarzi Family Historical Society

Berlin  -  California  -  Geneva  -  Istanbul  -  Kabul  -  Kandahar  -  London  -  Moscow  -  New Delhi  -  New York  -  Rome  -  Washington D.C.

Continuing a legacy is a complicated and strenuous task for anyone – especially when the legacy is that of His Excellency Ghulam Yahya Khan Tarzi. Yet Farouk Y. Tarzi carried the torch his father lit decades ago, serving both his country and the world as a distinguished international civil servant.

Early Life

    Farouk Y. Tarzi would attend French Lycée of Kabul earning a French Baccalaureat in 1962. Soon thereafter, Mr. Tarzi attended the University of Kabul earning a Licence es Sciences Economiques (BS in Economics). After completing his studies, Mr. Tarzi served as Deputy Director of Trade Agreements in the Ministry of Foreign Trade in Kabul from 1970 to 1972. Within this capacity, he was responsible for all trade agreements starting from preliminary negotiations to the signature and approval of the documents.

United Nations

    In 1972, Mr. Tarzi joined the United States Agency for International Development (USAID) in Afghanistan. He served as the Special Assistant to the Deputy Director of the USAID mission. As a Special Assistant, Mr. Tarzi was responsible for the analysis of operations reports and regularly proposed and recommended cost effective improvements.  After serving over a year with USAID, Mr. Tarzi was designated as the National Program Officer with the United Nations Development Program in Kabul from 1974 to 1975.

    Farouk Y. Tarzi's move to the United Nations Development Program (UNDP) in Kabul would be the start of a long and illustrious career with the United Nations. After a year in Kabul, Mr. Tarzi would become Program Officer of the UNDP in Ouagadougou, Burkina Faso in 1975. He would soon become Assistant Resident Representative of the UNDP mission in Burkina Faso, during the country's constitutional transformation in 1977. Burkina Faso would only be the beginning of Mr. Tarzi's work in Africa with the UNDP, serving as Assistant Resident Representative in Guinea from 1979 to 1981; Regional Projects Officer in Niger from 1981 to 1982; and Deputy Resident Representative in the Central African Republic from 1982 to 1985. In 1985, Mr. Tarzi was stationed in UNDP New York as the Senior Area Officer until 1990. He would then go on to Trinidad and Tobago for a three year mission as Deputy Resident Representative until 1993. In 1993, Mr. Tarzi briefly left UNDP to work as a Senior Program Manager in the United Nations Sudano-Sahelian Office in New York until 1996.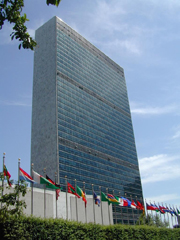 February of 1996 saw Mr. Tarzi carry out Deputy Resident Representative functions in the Philippines.  1997 would send Mr. Tarzi to 3 continents, serving the UNDP in the Maldives; participating in an evaluation in Teheran, Iran, in October 1997; and in Madagascar from November to December of 1997. In 1998, Mr. Tarzi either served as a Deputy Resident Representative or a UNDP Representative in Zimbabwe (Mar.-Jul.) and Cout d'Ivoire (Jul.-Nov.).

    For over three decades, Farouk Y. Tarzi served on the international stage, working 25 years with the United Nations. Mr. Tarzi, through his years of service, became fluent in English, Dari (Farsi), French, Arabic, Czech, Russian and Turkish. He would retire from his honorable service in May 1999 and is currently residing in the United States of America.

United Nations building in New York, where Mr. Tarzi was stationed for a total of 8 years.